LUBBOCK, TX — As with most of my colleagues around the United States and around the world, COVID-19 has forces rapid, quick, and somewhat radical changes to how we conduct our business. One of the most dramatic changes has been to our classrooms, where concerns over close quarters and personal contact have compelled many college campus to move to entirely online instruction.
I've written before, and of this writing, universities in Taiwan have not been forced into cyberspace — my course excepted of course, as the Fulbright program called us all back to the US. I Zoom in nightly, and it works pretty well.
That is, until yesterday.
From a parliamentary order issued by Taiwan's Executive Yuan (行政院):
"In response to changing developments surrounding the COVID-19 outbreak, many organizations have the option to use remote video conferencing technology to coordinate with separate or distant offices as a means of minimizing business disruptions. The Executive Yuan's Department of Cyber Security (DCS) today formally issued an advisory to all government organizations and specific non-government agencies that should it become operationally necessary to engage in video conferencing, the underlying video software to be used should not have associated security or privacy concerns, such as the Zoom video communication service. "
The order doesn't specify, but there is wide speculation that this advisory is directly the result of Zoom's recent admission that there data signals are routed through China. While these concerns are not unique to Taiwan — indeed both Canada and the United States have similar advisories posted — they take on an additional level of intrigue whenever cross-strait tensions are driving this sudden ban.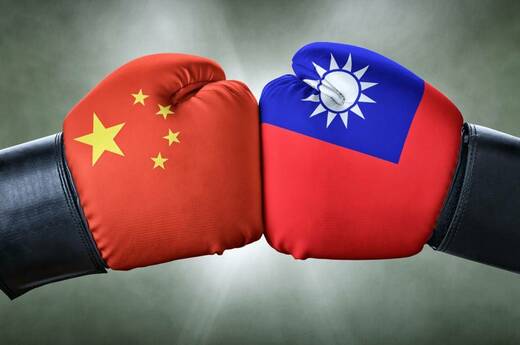 Simply put, China and Taiwan do not get along very well. The complexities of Taiwan-China relations are far too intricate for a single blog post — the short version is that China does not recognize Taiwan's sovereignty (an excellent summary from the BBC can be found here). That said, the COVID-19 pandemic has brought much of this tension the surface.
A few examples:
To be fair, others in the tech industry have cited numerous security concerns associated with Zoom, such as email addresses being leaked, webcam software being compromised, and suspicious data sharing between Zoom and Facebook, among others. Likewise, we can and should be keeping our students safe — and that extends to the physical and the digital classroom. In addition, you sort of get what you pay for and to this point, I've given Zoom precisely $0.00.
That said, and with nearly all things China, at least from the perspective of Taiwan, it's difficult to overlook shadows from the mainland.
It's nearly midnight in Taiwan now so we'll not have time to test a new system for tomorrow morning's class (well for me, tonight's class). I'm sure we'll have this solved by 09:00 // 20:00. I was able to pilot Cisco's WebEx with a colleague yesterday, and it might work for us — some slight lag and instability but otherwise useful.
COVID-19 has taught us all to be flexible. Sadly, it's also reinforced — perhaps even emboldened — our most rigid differences.